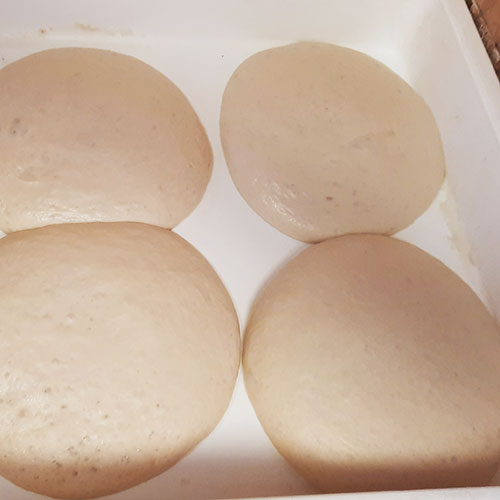 This is how you can make POFOKES PIZZA style pizza dough at home.
Ingredients:
32 oz water
1 tsp. dry yeast
1 tsp. sugar (or honey)
3.5 lbs. 00 Flour
2 tbsp. olive oil (for flavor - optional, but recommended)
Instructions:
Measure room temperature water into a bowl and add the yeast and the sugar (or honey).  Mix and let stand for 10 minutes. 
Add 1/2 of the flour and mix this for about five minutes.
It will be sticky.
Cover with a towel and let it rest for one hour at room temperature.
Pour the very wet and sticky dough out onto your surface to complete.  Add the rest of the flour, the salt and the olive oil.
Knead until ALL of the flour is incorporated.  This dough is HIGH HYDRATION.  It will still be very sticky.  
Shape into a ball.  Drizzle a bit of olive oil on top and cover with plastic wrap and let it rest an hour.
Shape your dough balls into about 8 ounces each for traditional, thin crust Neapolitan style pies.
If you want to add a LOT of toppings, make your dough balls 10 to 12 ounces instead ... 
If you make 8 ounce dough balls, you can fit six of these on a standard sheet pan.
Sprinkle dough balls with a bit of flour and cover tightly with plastic wrap and a towel.
Rest for 6 to 8 hours before you stretch for pizza.
If you want to use another day, let rest for 6 to 8 hours and then refrigerate.
OPEN 11AM - 6PM M-F
OR UNTIL SOLD OUT!