Pofokes PIzza Recipes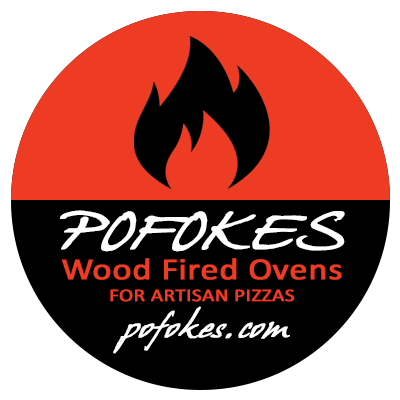 Pofokes Pizza Dough
Ok, you've noticed that Pofokes Pizza Dough has that something different wonderful to it.  I will give you here the Pofokes Pizza Dough secret, so it is no longer a secret.  Everyone that wants to enjoy this dough for making breads, including flatbreads like pizza crusts can follow my recipe and instructions.
Yield
This recipe is based upon using one pound of flour and it will yield a dough ball weighing 28 oz, which is enough to make two large pizzas (14" to 16"), depending upon how much you stretch the pie.  
Ingredients
1 lb Type 00 Flour1
12 oz. Filtered Water2
1 tsp Dry Yeast3
1 tsp Honey4
1/4 Cup Pofokes Sourdough Starter5
1/2 tsp Sea Salt6
Make it Happen!
Add water (room temperature is ok - does NOT need to be warm) to your mixing bowl.  Add the yeast, honey and Pofokes Sourdough Starter to the water and mix until dissolved.  Add the flour and mix for a couple of minutes.  Add the salt and mix or knead by hand for 15 to 20 minutes.
Shape the dough into a tight ball, cover and let it rest for an hour at room temperature.
Lightly flour your working surface, place the dough ball on it and punch out the air from the first fermentation.  Divide it into 2 pieces for larger pieces, or 3 pieces for smaller pizzas.
Shape each piece into a ball again, place these in a pan, brush the tops with a bit of oil and then cover TIGHTLY with plastic wrap.
Let the dough balls double again, which will take between 3 - 6 hours, depending upon room temperature.
They are ready to stretch and use!
Note that you can also use this dough for bread or dinner rolls.
---
Pofokes Perfect Seven Pizza Topping Blend
This is the Pofokes Pizza Topping Blend that I shake on all of my pizzas to finish them!
Note: I usually have a container of pizza bread (lightly topped with olive oil and parmesan) and a container of the Pofokes Pizza Topping Blend that you can try.
1 Tbsp Sea Salt
1 Tbsp Sumac
1 Tbsp Paprika
1 Tsp Garlic Powder
1 Tsp Onion Powder
1/2 Tsp Turmeric Powder
1/4 Tsp Black Pepper
---
Sorry, we're closed.
See More Hours
Wednesday - 9:00AM - 7:00PM
Thursday - 9:00AM - 7:00PM
Tuesday - 9:00AM - 7:00PM
... OR UNTIL SOLD OUT!