Wood Fired Neapolitan Style Pizza Special
Tap on a link below to see the current running specials!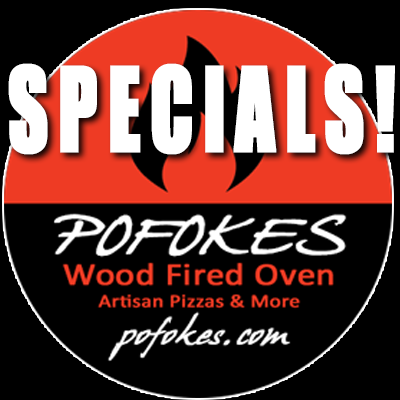 Pofokes Pizza ... is not just another pizza!  Here's why:
I make fresh dough every day using my own sourdough starter.
I use the traditional Type 00 Italian flour with 70% hydration to get the thin but strong crust.
You've got to have a great foundation for a great pizza!
Starts with a traditional, neapolitan pizza crust.
Topped with my own, savory pizza sauce (tomato based)
Next, I lay down four cheeses: parmesan, cheddar, jack & mozzarella.
You select three toppings ...
Then, I introduce your custom pie to my Pompeii style, wood-fired pizza oven.
Give it 60 seconds to 2 or 3 minutes, depending upon the oven temperature ...
Your Tongue Will Slap Your Brain!
Be prepared to enjoy one of the best pizzas you have ever introduced to your palate!
Sorry, we're closed.
See More Hours
Tuesday - 9:00AM - 7:00PM
Wednesday - 9:00AM - 7:00PM
Thursday - 9:00AM - 7:00PM

Order Food Delivery with DoorDash