Old World Wood Fired Artisan Pizza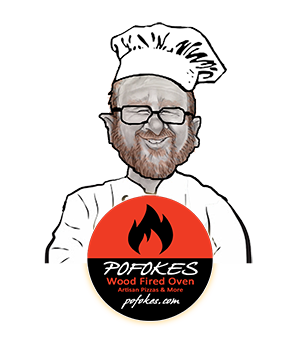 Traditional Napoletana and Popular Classics are available every day we are open. We also have daily specials (posted on main part of site). Availability of Family, Specialty and Dessert Pizzas vary. (please see daily specials).
Why called Pofokes? Pizza was first street food that peasants would eat, a flat bread with some herbs to fill the stomach. We have expanded that - you can choose red or white sauces, cheese and toppings. Our basic pie that we bake in our Pompeii style, wood-fired pizza oven uses 10 oz of pizza dough stretched to @ 12" pie.
Pofokes prepares fast and fresh Neapolitan style pizza in our own oven we built ourselves and serves it up hot with dough made from scratch each day.
Our street food fare includes some unique fast and fresh comfort foods, too. We are under the tent on the corner of Front and Race Streets in Port Angeles, Washington.
"Pofokes" is short for Pofokes Pizza is also known as (AKA)
Pofokes Pizza or Poor Folks Pizza
PoFokes is an outgrowth of one of my personal interests and my love of wood-fired pizza! I've been building earth ovens, clay ovens and composite, refractory mix ovens since about 2006.
I enjoy cooking and the interaction with the people of Port Angeles over my little pizza operation.
I Built the Oven
I built the POFOKES PIZZA OVEN that I am using. I actually designed a stainless steel mold that I have used to make two other ovens as well.
I plan on providing the POFOKES PIZZA OVEN KITS soon - perhaps in the spring of 2021.
If you are interested in owning your own Pofokes Pizza oven, get in touch with me. I'm thinking the cost will be between $1,500 & $2,500.
Coding & Cooking
My main business since 2004 has been the website builder (CMS - Content Management System) that I created: Best Way Websites.
In between the prep and cooking times, I still take care of the administrative responsibilities of Best Way Websites.
Restaurant Cook & Management Background
While in high school, I worked for years for a local fried chicken company and then worked for another stuffed potato restaurant as well.
After college, I managed a seafood restaurant for two years.