Private Party Catering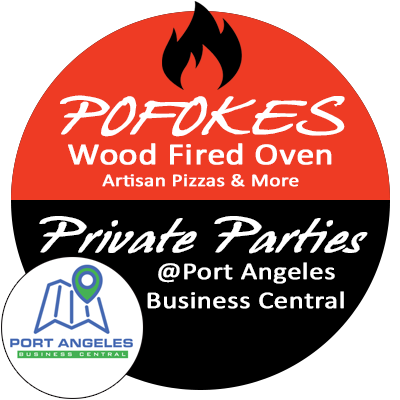 Private Party Catering
We are available to cater to your private groups using the facility here at Port Angeles Business Central.
We have four private dining rooms (each seats 4-6 people) available as well as a conference room that can seat up to 26 people at tables.
Private Pizza Parties
@ Port Angeles Business Central, we can cater to your private group.
Availability varies, but we may be available from 7 pm to 11 pm Tuesday through Friday or at other times on Saturday, Sunday or Monday.
Saturdays, Sundays and Mondays we are not open to the public, but may be available for private parties.
Reservations & Costs
If available, you may reserve your private party for $600, which will include up to 2 hours of continuous service and up to 20 full-sized Perfect Pies.
Our perfect pies serve between 1 and 4 adults each. I could eat a whole Perfect Pie by myself, but I don't.

We can make more than 20 pies for your private party @ Port Angeles Business Central, just count on $30 per pie and you can figure your costs.
What's Included in a Private Pizza Party?
Private Rooms Reservations
Conference Room with Multi-media screen
Lectern
Easel with Paper for Presentations
50 Cans of Soda & Flavored Sparkling Water (additional @ $1 each)
Coffee Service
Plates, Cups & Napkins

You provide your own eating utensils ... your hands!
Mobile Unit Catering?
We are currently working on a mobile unit, but it is not yet available.
---
Mobile Pizza Catering for Events in Port Angeles - Sequim Area
Here are some other options for you to consider below. They may be able to bring their mobile unit to your event. If you operate a mobile pizza unit, we will happily list you here at your request. Contact us.
Of course, other pizza establishments can also deliver your pizzas for your group.