Pizza Porter - Reusable Pizza Carriers - Bring Your Own Container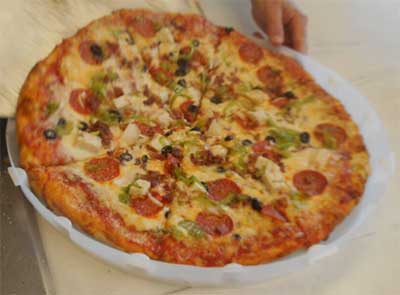 Pofokes Pizza of Port Angeles encourages you to take advantage of Reusable Pizza Carriers or to Bring Your Own Container!
I'm Not a Pizza Snob
I have yet to meet a pizza that I did not like. I make these amazing artisan, wood-fired pizzas. In Port Angeles, I love Gordy's Pizza, LD's Woodfire Grill, Strait Slice, Barhop, Drakes, Dominos Pizza, Westside Pizza, and Little Caesar's too. If I haven't had yours, I would like it, too!
I'm Not a Pizza Porter Snob, Either
You don't have to buy a Pizza Porter from me. Anytime you bring your own container, I will reward you with a FREE DRINK for each small or medium size pizza that you purchase!
Just make sure your container is 12" square or sort of roundish.

Reward: Get a Free Drink Each Visit Per Container You Bring
Purchase from Pofokes Pizza
You can buy it from me for $20, and get 2 free drinks with it!
To purchase from me, text me or just tell me you want to buy a Pizza Porter when you visit the tent.
Text 360-775-9162 and let me know how many you want and when you'd like to pick them up.
Or Purchase Directly from the Manufacturer
The ARTY Pizza Porter is shown below. You can buy it directly from the manufacturer (USA) for $10.99 + about $10 in shipping. (About $20 total)