Pofokes #1 Google Rated Wood-Fired Artisan Pizzas
Tap on a link below to get the details about any of the POFOKES PIZZAS or scroll down the page to learn more about POFOKES PIZZAS in general.

Pofokes Pizza is the #1 Google Rated Wood-Fired Artisan Pizza in Port Angeles. Thank you!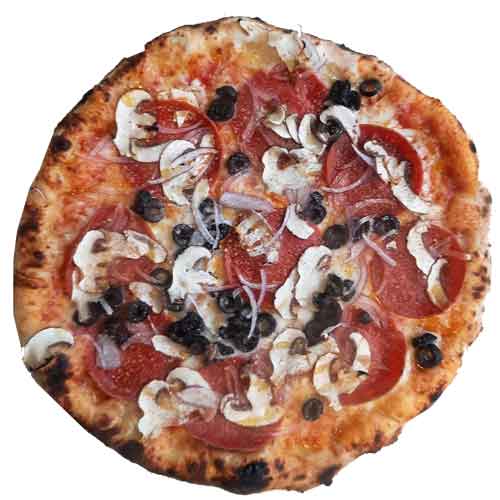 How Do I Do It?
It's a "One Man Pizzeria"
I am the owner, manager, chef, baker and server. This limits my output but it gives me 100% control over the product and the service.
If I fail, there is no one to blame but me.
If you are looking for a job, you'll have to look somewhere else. I'm not trying to grow this business beyond what I can do by myself.
If you'd like to start your own "Pofokes" or even compete against me, I'd be happy to provide that service to you and offer you the best advice I've got.
What Kind of Pizza Can You Order?
Just about anything you can get from any other pizzeria!
I provide all of the popular toppings and more that other pizzerias offer.
Below is How I Custom-Craft|
POFOKES Pies from Bottom-Up
My Own Sourdough Pizza Dough
I have developed my own sourdough starter from the 00 flour that I use for making my traditional, thin, Neapolitan-style (Italian) Pizza crust. The dough is typically allowed to cold ferment for 3 days before it is shaped into the pizza dough balls that will be hand-stretched by yours truly and topped to make your very own POFOKES PIZZA!
10 oz dough stretched to 12" pie
about 700 calories
Marvelous Marinara Sauce
I prepare my marinara sauce from vine-ripened, California grown Roma tomatoes. I started out using imported Italian San Marzanos but when I did a taste test early on with my customers, ... well, the California tomato sauce was preferred.
Italians would probably like the San Marzanos better, but most Americans find that sauce a bit sour when compared to the sauce I am using.
I'm selling what my customers like.
Additional Available Sauces
BBQ Sauce
Extra Virgin Olive Oil & Sea Salt
The following sauces cost a bit extra.
Alfredo Sauce
Creamy Pesto Sauce
Pesto & Olive Oil
Mushroom Sauce
The Shaved Garlic "Signature"
The first ingredient that I add to each of my POFOKES PIZZAS is fresh-shaved garlic. I use a kitchen device that shaves the garlic to a translucent paper-thin. If there is "that something" that you have noticed about POFOKES PIZZAS that is a bit different, a bit tastier than others, well, it is probably the shaved garlic.
Oh no! The secret is out!
Cheese6!
Next, I add a sprinkle of shredded parmesan cheese, and then I add a four-cheese blend and then I add shredded mozzarella cheese.
The parmesan imparts a hearty, nutty and a bit salty start and the other cheese finish it out.
Shredded Parmesan
Shredded Monterey Jack
Shredded Medium Cheddar
Shredded Quesadilla
Shredded Asadero
Shredded Mozzarella
If you are counting calories - the result here is a total of 4-5 ounces (that is over 1/4 pound) of cheese. Think about this before asking for extra cheese.
You may ignore this if you want or need to: an ounce of cheese contains 80 to 115 calories, depending upon the type of cheese.
So, average those two numbers and you've got about 100 calories per ounce - or 500 calories per 12" POFOKES PIZZA ... in the cheese alone.
4.5 ounces cheese
450 calories
More Cheeses
I also have these special cheeses that I can add that have an additional cost depending upon market price:
Fresh Mozzarella (NOT buffalo)
Fancy Shaved Cheese Blend (Parmesan, Asiago, Romano)
Other Special Seasonal Cheeses
Common Meats
The most common and popular meat toppings are and add $3 per pie:
Pepperoni
Italian Sausage
Smoked Ham
More Meats
Other meat toppings are as follows and cost a bit extra, depending upon market price:
Chicken (I use a light and dark meat blend for fuller flavor)
Gyro Meat (a processed beef and lamb mixture, used for gyro sandwiches)
Philly Cheesesteak Beef
Beef & Chicken Crumble (like Italian Sausage, but no pork)
Anchovies
Common Veggie Toppings
These toppings are $2 each per pie
Black Olives
Mushrooms (freshly sliced)
Onions (freshly sliced)
Green Bell Pepper (freshly sliced)
Sweet Bell Peppers (Red, Orange or Yellow) (freshly sliced)
Spinach
Mixed Baby Greens
Pickled Jalapeño Peppers
Diced Pineapple
More Veggie Toppings
These toppings are $3 each per pie
Artichoke Hearts
Freshly Sliced Tomatoes
Sun-dried Tomatoes
Fresh-sliced Jalapeño Peppers
Freshly-picked Basil